Art and Design

The national curriculum for art and design aims to ensure that all pupils:
Produce creative work, exploring their ideas and recording their experiences
Become proficient in drawing, painting, sculpture and other art, craft and design techniques
Evaluate and analyse creative works using the language of art, craft and design
Know about great artists, craft makers and designers, and understand the historical and cultural development of their art forms
To achieve these aims, there are 5 key strands which run throughout our Art and Design scheme of learning.
Making skills
Generating ideas
Formal elements
Knowledge of artists
Evaluating
Spiral curriculum
We use Kapow Primary's Art and design scheme which has been designed as a spiral curriculum with the following key principles in mind:
✓ Cyclical: Pupils return to the same skills again and again during their time in primary school.
✓ Increasing depth: Each time a skill is revisited it is covered with greater complexity.
✓ Prior knowledge: Upon returning to a skill, prior knowledge is utilised so pupils can build upon previous foundations, rather than starting again.
Formal elements of art units
With the exception of UKS2 in cycle B, each year group has a unit called 'Formal elements of Art'. These units focus on the discrete skills of the formal elements of art which are:
● Line
● Shape
● Tone
● Texture
● Pattern
● Colour
Art and design skills units
Each year group has a unit called 'Art and design skills' which focuses specifically on developing pupils' art, craft and design skills in a discrete way.
The knowledge and skills from these two recurring units are then applied throughout the rest of the scheme within the other units (e.g. Sculpture and collage or Prehistoric art).
Our coverage of each unit is mapped out within the long-term overview which shows both cycle A and cycle B for each phase of school.
Vocabulary
Vocabulary plays an essential role in the understanding of key concepts in art and design. We believe that it is vital that the children learn and remember key tier 3 Art and Design vocabulary within each unit that we teach. The art and design vocabulary lists map out the tier 3 vocabulary learnt at each phase in school. Our knowledge organisers capture the key vocabulary taught within each unit. Our lesson structure clearly identifies a section in which vocabulary is discussed and taught.
Click on the image below to view key vocabulary for each year group.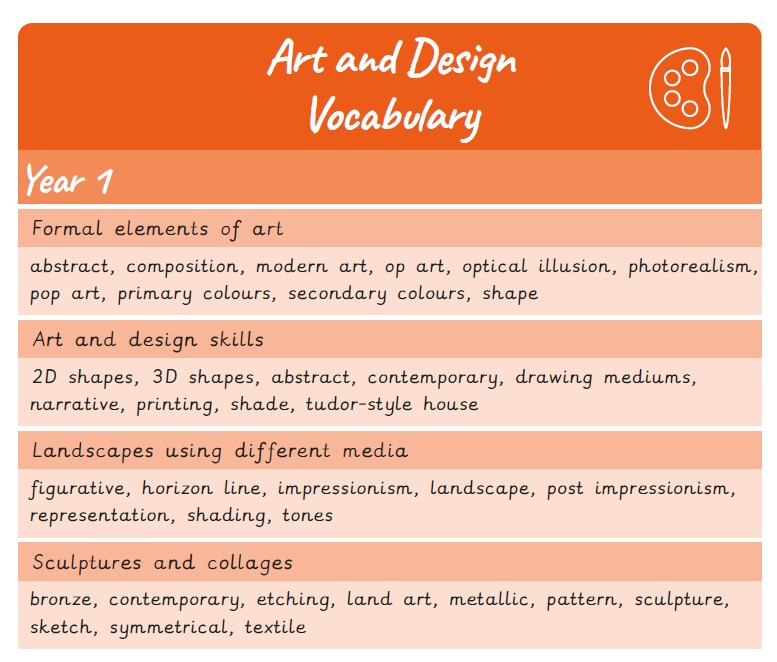 Knowledge organisers
Our Art and Design knowledge organisers map out the key tier 3 vocabulary to be taught within a unit. They also include some key facts, images and significant artists whose work will be explored during the teaching of each unit. These knowledge organisers represent the minimum knowledge that we expect the children to acquire throughout the unit.
Click on the image below to view an example knowledge organiser.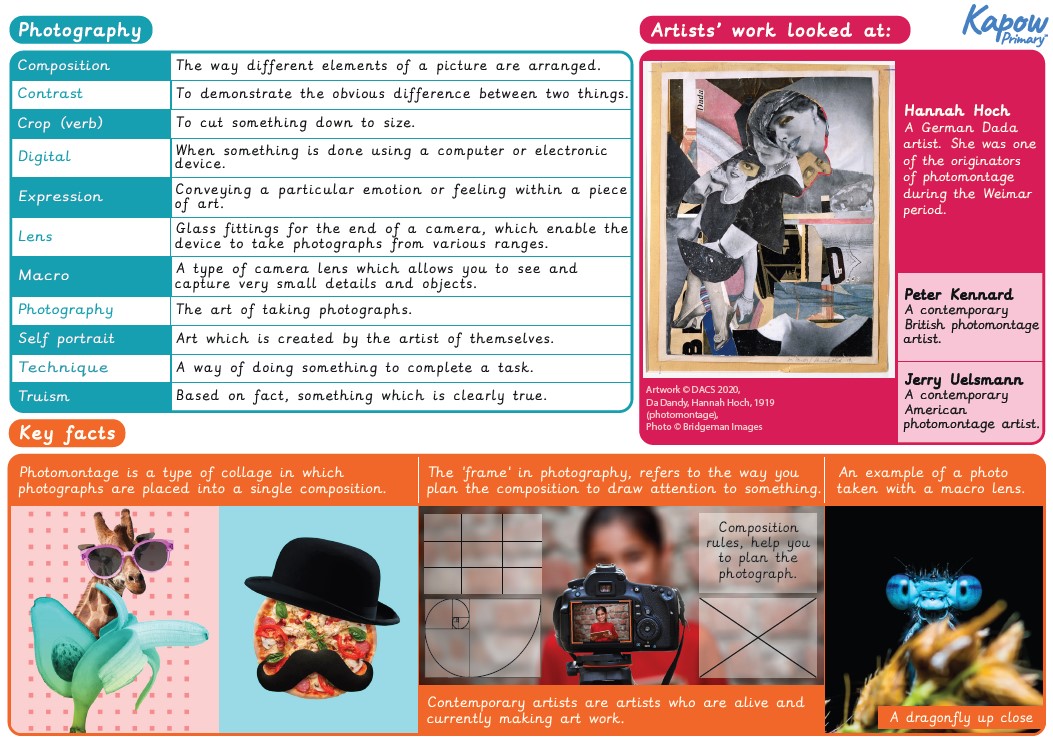 Lesson structure
We have an agreed lesson structure for the teaching of Art and Design. These encompass some of our key teaching and learning principles.
Assessment of Art and Design
Retrieval practice takes place at the start of every lesson, revisiting key knowledge that has been taught from previous lessons in the unit. 'Make it Stick' slips are also completed at the end of every lesson, again recapping key concepts and knowledge taught. These aspects allow teachers to check children are knowing and remembering more and allow teachers to check for any gaps in knowledge.
End of unit quizzes take place, allowing teachers to identify areas of strength; they also show any areas of learning that need to be recapped and revisited before moving forward onto the next unit and stage of learning. This information is then used to inform progress and attainment on iTrack.
Children's sketchbooks provide teachers with a wealth of assessment information. They demonstrate children's procedural knowledge and creative pieces.
Subject on a page
Click the button below to view our art and design 'subject on a page' document which summarises our curriculum intent and implementation.