Our Curriculum
At Dallimore we are proud to have an ambitious, interesting and engaging curriculum, designed to provide children in our community with varied and enjoyable experiences. We aim to deliver carefully sequenced lessons that develop children's curiosity in the world, whilst encouraging their love of learning and motivating them to succeed. We want to inspire our children to excel in every aspect of life, and aspire to grow into successful and confident citizens.
CORE CURRICULUM
We have developed specific sequences for the teaching of the core subjects of English and Maths. We believe that by providing clear and consistent structures to learning, we enable children of all abilities to access the learning and make good progress. Please visit the CORE CURRICULUM page to view the teaching sequences for the core subjects of English, Maths, Computing and Science.
WIDER CURRICULUM
Due to our admission number of 45 we have mixed year group classes within both Key Stage 1 and 2. To ensure appropriate coverage of the National Curriculum we follow a 2-year rolling cycle. Click the button below to view the whole school topic cycle.
KNOWLEDGE ORGANISERS
Knowledge Organisers are a way of setting out our INTENDED curriculum coverage for a particular topic. We share key vocabulary, the 'sticky' knowledge we want children to learn and reference books or additional resources.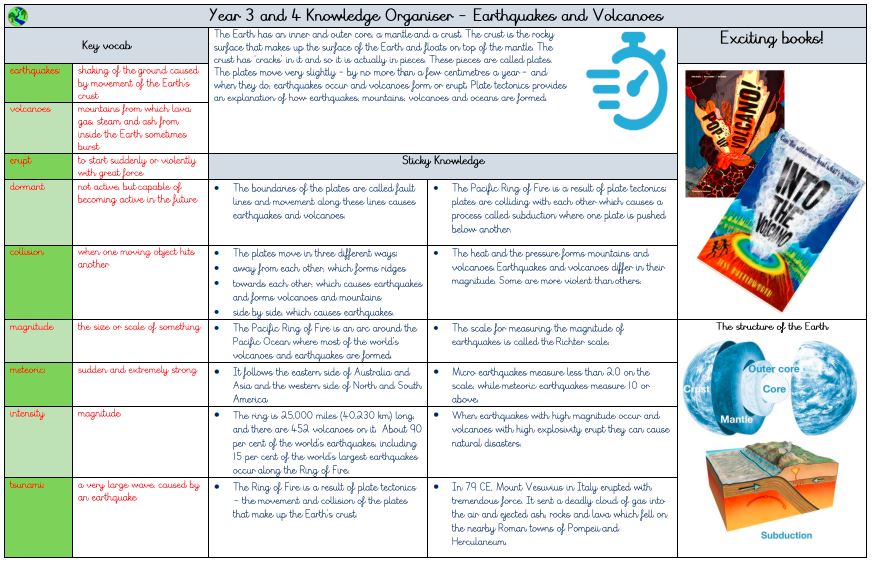 View examples of Knowledge Organisers
KNOWLEDGE CATEGORIES
KNOWLEDGE CATEGORIES are used throughout Medium Term Plans to help children relate the learning within each topic to previously studied topics in order to develop strong, meaningful schema. These allow us to focus teaching and learning around these core categories in both History and Geography.
You will find examples of how the Knowledge Categories are woven into medium term plans within the phase pages in WHOLE SCHOOL/ PHASE OVERVIEWS.