Our School
Headteacher's Welcome/ Vision and Values
Welcome to Dallimore Primary and Nursery School
The staff and I hope to provide a rich educational experience and a happy time for your child during their time with us. We would also like you to be an involved partner in the education of your child and, as a parent you will be made welcome in our school at any time.
As a staff we developed our VISION...
Aspiring to work with our community towards a bright future for our children.
...and only through everyone working together, can we achieve a calm environment which promotes good behaviour, hard work, resilience and mutual respect. We recognise that children can only learn when they feel safe and happy and this is always our first priority.
We use STARFISH VALUES to help children understand how, as British Citizens, we should behave towards each other and use the STARFISH story to help children understand that all acts of kindness, no matter how small can have a positive impact on everyone else.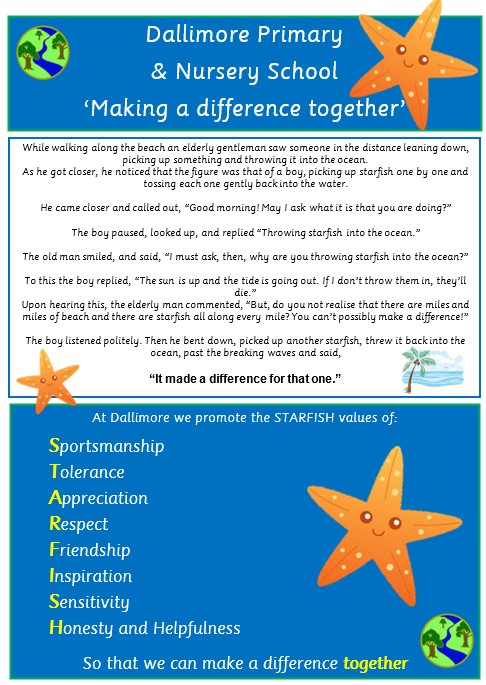 We extend a warm invitation to you to come and visit the school and see things for yourself, not only when you receive a personal invitation, but also at any other time. I shall be very pleased to show you around the school and to discuss any matters that will affect the education of the child. You may phone us to make an appointment or just simply call in, as there will always be someone there to help you if I am not available.
In 'OUR SCHOOL' you will find a number of documents and links that provide important information about Safeguarding and child protection, the school day, uniform and general organisation etc. If there is anything else that you think will be useful on our website, please do not hesitate to contact school with your suggestions.
Rachel Crowther
Head Teacher