Teaching of Maths
Children should make rich connections across mathematical ideas. Children who rapidly grasp key concepts should be challenged through being offered a range of reasoning and problem-solving challenges rather than moving onto new content. We implement the White Rose Maths Curriculum which builds on previously taught knowledge and skills and acknowledges the need to recap prior learning before further developing children's understanding of different areas. Children are taught in a way that encourages learning to be retained in the long-term memory.
Maths lessons are taught daily in all phases.
Lesson content in KS1 and KS2 is driven by the WRMH Curriculum.
Children demonstrate reasoning skills through answering probing questions.
Children have the opportunity to explore and solve complex problems.
Concrete resources, effective models and visuals are used to support children grasping new concepts.
Children who are fluent are provided with challenges to promote reasoning or further develop their understanding.
A 'Daily Count' session takes place across KS1 and KS2 to ensure that children are able to recall key number facts with increasing automaticity.
Children are regularly given the opportunity to revisit key concepts through retrieval practice in the form of Flashback 4s.
Daily arithmetic sessions are taught throughout KS1 & 2 to ensure that children have a firm grasp of written methods and key concepts taught within their year group.
Daily lesson structure
Click on the image below to view information on our lesson design/daily lesson structure.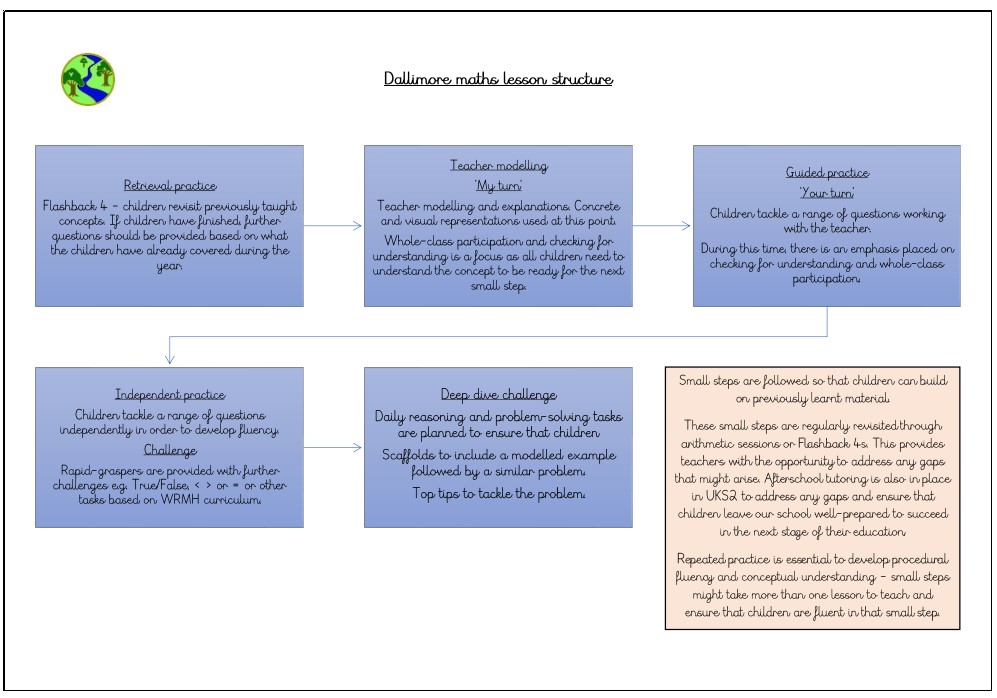 Small steps to achieve mastery
A step-by-step approach to maths is critical to learning and embedding knowledge effectively. We use the small steps from the White Rose scheme to break concepts down into manageable chunks that are easy for the children to grasp and allow them to acquire the knowledge they need. Sometimes, steps will require more than one lesson and teachers adapt their planning to ensure that children have adequate time to master each step.
Click on the button below to see the long-term overview and small steps for maths in reception.
Click on the button below to see examples of the small steps for KS1 and KS2 (these are taken from the White Rose Maths curriculum).
Arithmetic
Daily arithmetic sessions take place throughout school
These take place at the start of every day
Teachers plan arithmetic sessions using the 'Dallimore Progression in Arithmetic document'
Children mostly self-mark during these sessions
The role of the teacher is to use the time to check children's methods and remodel any common difficulties
Progression in arithmetic
Click the image below to view the progression in arithmetic document.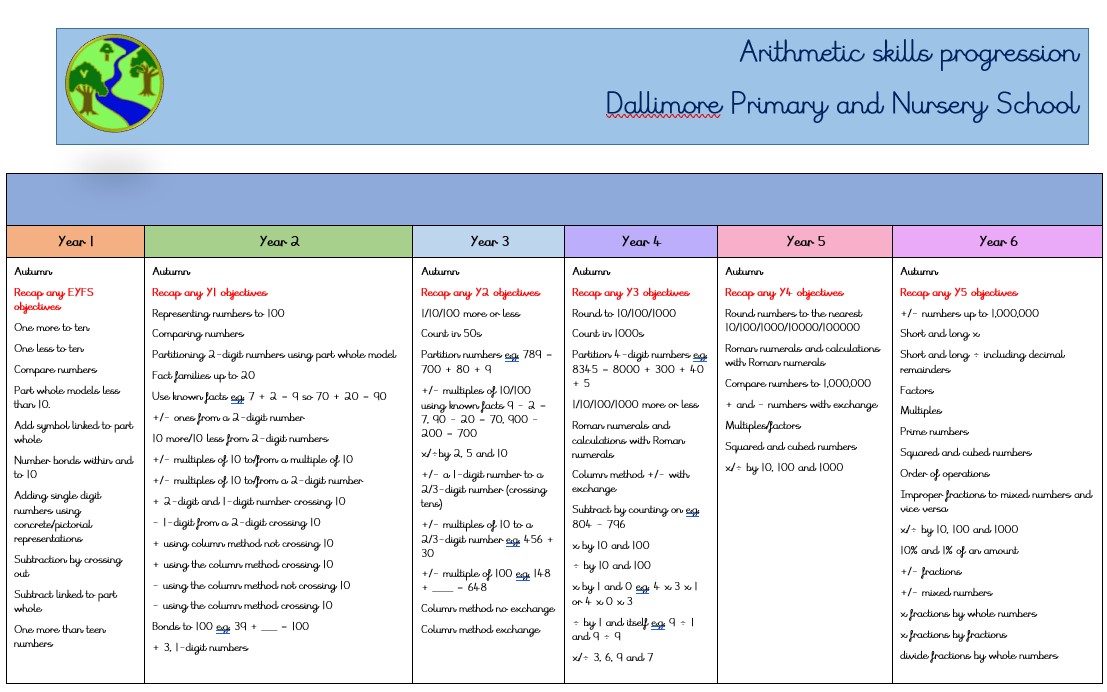 Daily Count
Classes across KS1 and KS2 participate in a daily count.
A long-term overview is provided to teachers to ensure progression and that children become secure in knowledge of multiplication facts.
The session involves counting in multiples, factor x factor = product and identifying easy and hard questions
We also actively encourage the use of Times Tables Rock Stars to promote children's automaticity in multiplication facts.
Long-term overview of Daily Count and Multiplication Tables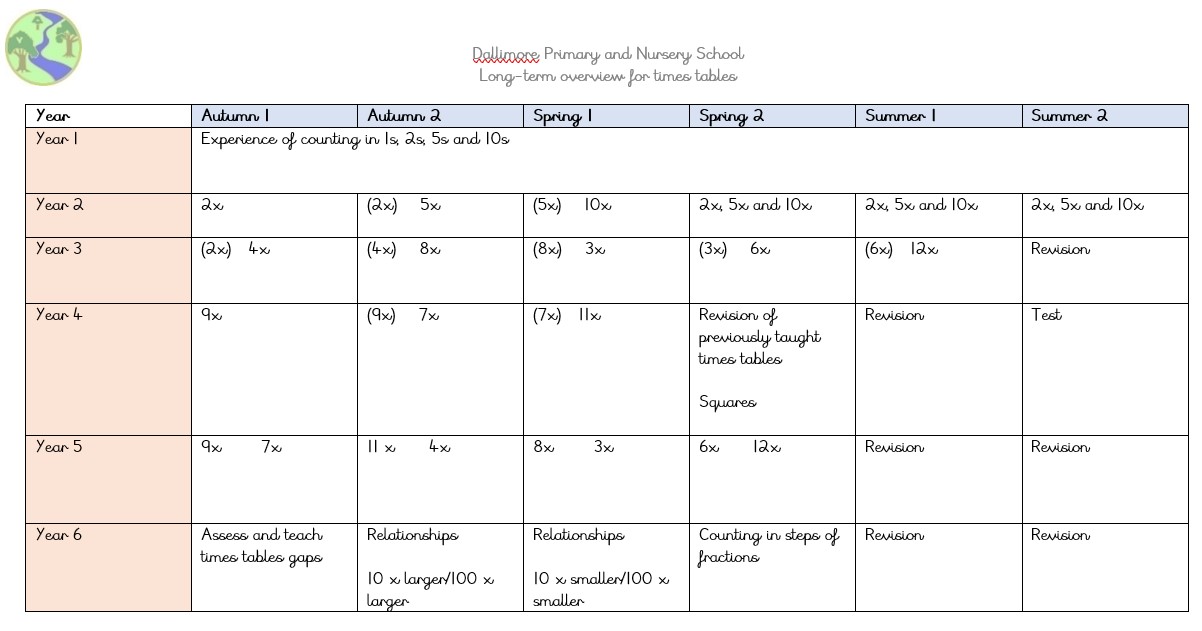 Assessing progress and attainment in Maths
Ongoing assessment takes place on a day-to-day basis.
Flashback 4s provide an opportunity for teachers to check that children know and remember more.
Children's independent practice allows teachers to check if children have understood concepts during that lesson.
Challenges within lessons and deep dive challenges allow teachers to assess who has a deeper knowledge and understanding of any key concept.
Before each assessment point, teachers use the WRMH assessment materials to assess children's progress in arithmetic and reasoning.
Scores are uploaded to a whole-school tracker to track progress of individuals and cohorts as a whole.
Closing the gaps
Afterschool maths clubs are offered to all children in Year 6 3 x per week in order to support their progress and attainment and to ensure they are well-equipped for their next stage of learning.
In light of the Covid pandemic, we also offered extra maths clubs for children in Year 4 and Year 5. These sessions are all planned using the Progression in Arithmetic document and allow children to become increasingly fluent in a range of procedures and methods.
We also encourage children to practice basic skills at home through using TT Rockstars and Numbots.